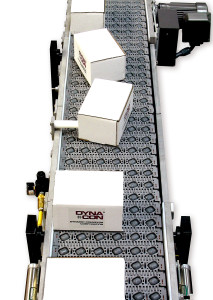 Case Turning Conveyors
Case Turning Consistency Every Time
Case turning conveyors ensure a complete package or case turn every time — even if the conveyor is stopped and restarted in the middle of the cycle.  And just like all of our conveyors, our case and box turning conveyors have a 5 year warranty, and can be custom designed to your specifications.
Benefits of Dynamic Conveyor's Case & Box Turning Conveyors
Align cases and boxes uniformly along the side rail heading into the turner, ensuring each case hits the turner at a consistent point every time
Eliminate problems caused by interruptions of momentum at the case turner
Save money with zero downtime caused by jams or misaligned boxes
Handle a wide range of package dimensions and characteristics
Simplify case and box turning with fewer moving parts
Multiple and variety of turns available in one conveyor (ie: 90, 180, 270, 360 degrees)
Contact us today!  We're here to make recommendations for the best conveyor solutions for your facility.