DynaClean®
Sanitary Conveyors

Designed to meet your sanitary conveyor needs
Get A Quote
Parts/Service
The innovative design simplicity of the DynaClean conveyor has set an unparalleled sanitary standard in the industry.  This line of food grade conveyors offers a patented design featuring toolless disassembly allowing conveyors to be completely disassembled in minutes for quick cleaning and return to production.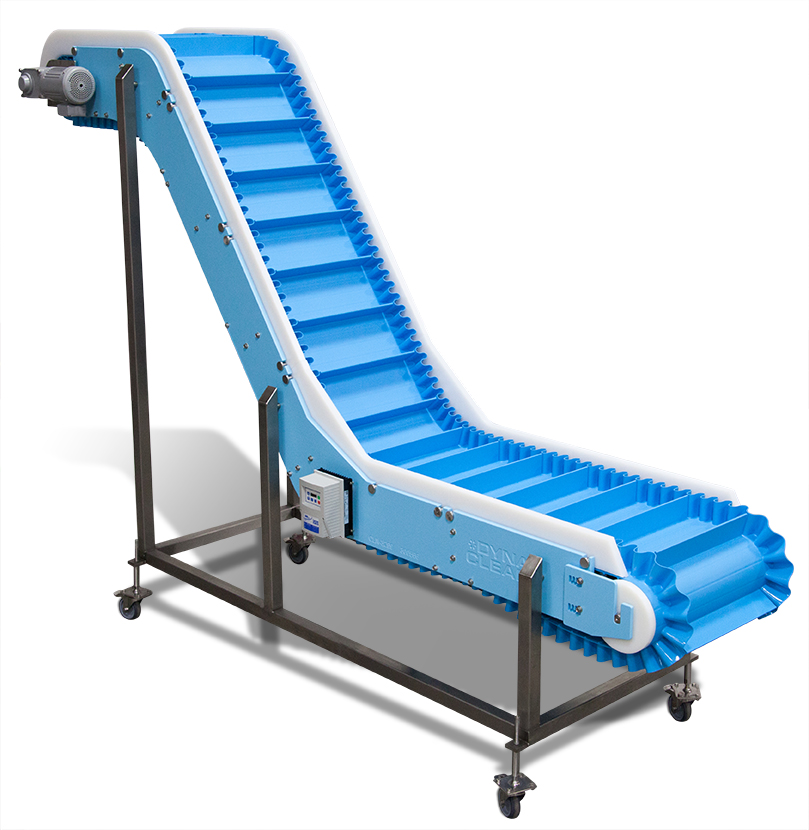 DynaClean Z conveyors can be designed in various inclines and angles to create the ideal incline conveyor for sanitary and food processing applications. 
DynaClean vertical conveyors move food products vertically, maximizing floor space. Vertical conveyors replace traditional bucket conveyors at a more affordable price and with less maintenance.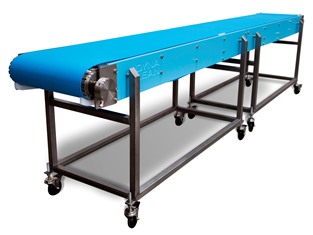 DynaClean flat conveyors come in widths up to 42" and lengths up to 100 feet. Combine with accessory options and other DynaClean modules for limitless sanitary applications.
DynaClean food grade conveyors have set an unparalleled sanitary standard in the industry.
View Full Gallery
Chutes, hoppers, diverting arms and product transferring accessories are available to fit all of your conveying needs
Accessories like E-Stop and Photo Eye Stop bring added safety and efficiency to your facility
A variety of options help meet your product's high standards, including metal detection, allergen kit, enclosures and guarding, reversing, reject, covers and catch pans.
Washdown conveyors designed for efficiency
With years of experience providing conveyance solutions for the food industry, we recognize that cleaning time is not productive time.  Our conveyors are designed to ensure you spend your time in production.  The patented design of DynaClean sanitary conveyors ensures disassembly and cleaning can be completed in minutes, not hours.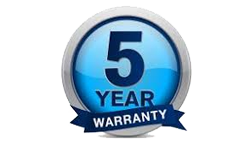 Easy-to-clean conveyor design
Patented quick-release design gives access to all internal components
Complete toolless disassembly for cleaning
Belts fitted with lacing rod for quick and complete removal of belt as a standard offering
FDA approved blue in color for food safety and cleanliness
Clean in place available for cleaning of internal and external conveyor components
Designed with safety in mind – no need for additional guarding
Built from the highest quality materials, washdown conveyor systems are corrosion resistant, non-toxic, non-absorbent and temperature resistant
Durable stainless steel supports and hardware
Include a 5 year warranty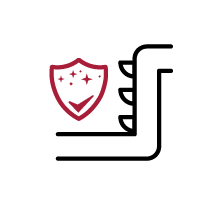 Designed to meet your sanitary conveyor needs
Designed and built to meet NSF, FDA, USDA and BISCC standards with 3-A Dairy conveyor option available
Configurations include flat, vertical (an alternative to bucket conveyors), and Z-style incline conveyors
Belt options include solid surface polyurethane, metal mesh belting, and various configurations of link-style modular plastic conveyor belting
Belting is specified for each product type to reduce product loss
Motors meet sanitary requirements and are fitted with a VFD to maximize energy efficiency and allow for speeds to be tailored to the application
Maintains a modular design philosophy to allow for conveyors to later be reconfigured, reducing costs relative to a new conveyor
A variety of options and accessories to maximize conveyor capabilities
Low cost of ownership is a crucial consideration for businesses when making purchasing decisions. Low cost of ownership can help to reduce expenses, increase profitability, and promote sustainable and responsible asset management. By selecting high-quality, durable products and implementing efficient maintenance and repair processes, businesses can achieve a low cost of ownership, saving money and resources while also contributing to a more sustainable future.
Modularity:

DynaClean conveyors are designed with a modular philosophy, allowing them to be reconfigured to meet specific and changing needs of your business. This can help to reduce costs by eliminating need to purchase new equipment in the future.  

Quality Components:

We utilize high quality components in all elements of our washdown conveyor systems.  This results in unparalleled conveyor durability, reduces replacement part costs and maintenance costs, and minimizes the need to carry a spare parts inventory.

Low Maintenance Costs:

The simplicity of our sanitary conveyor design minimizes the number of components and wear items used, minimizing repairs and preventative maintenance.  Additionally, we utilize non-tensioned belts in all our designs eliminating the maintenance time needed to continuously track belts.

Energy Efficiency:

Standard motor packages include AC motors fitted with VFDs allowing for reversing and variable speed capabilities.  

Easy Integration/Installation:

Many of our conveyors can be easily installed and integrated with existing equipment, which can help to reduce costs associated with additional onsite fabricators and installers.
We've Built Conveyors For: