Since our inception, we've focused on moving the manufacturing industry up to new heights by creating fully integrated material handling systems for lean manufacturing processes and optimizing floor spaces.
Our custom belt conveyor systems provide maximum flexibility and sustainability at standard conveyor prices. Built using performance plastics, they are lightweight, require minimal maintenance, and allow you to implement configuration changes to your manufacturing processes with no disruption.
Manufacturing Conveyor Benefits
Full controls packages and installation services available
Tensionless conveyor belting requires no belt tracking
Maintenance-free and energy efficient motors
Shipped economically for reduced costs
5 – Year Product warranty included
Application Examples: Trunkline conveyors, takeout conveyors, vertical Z and incline conveyors, and cleanroom conveyor systems
Get A Quote →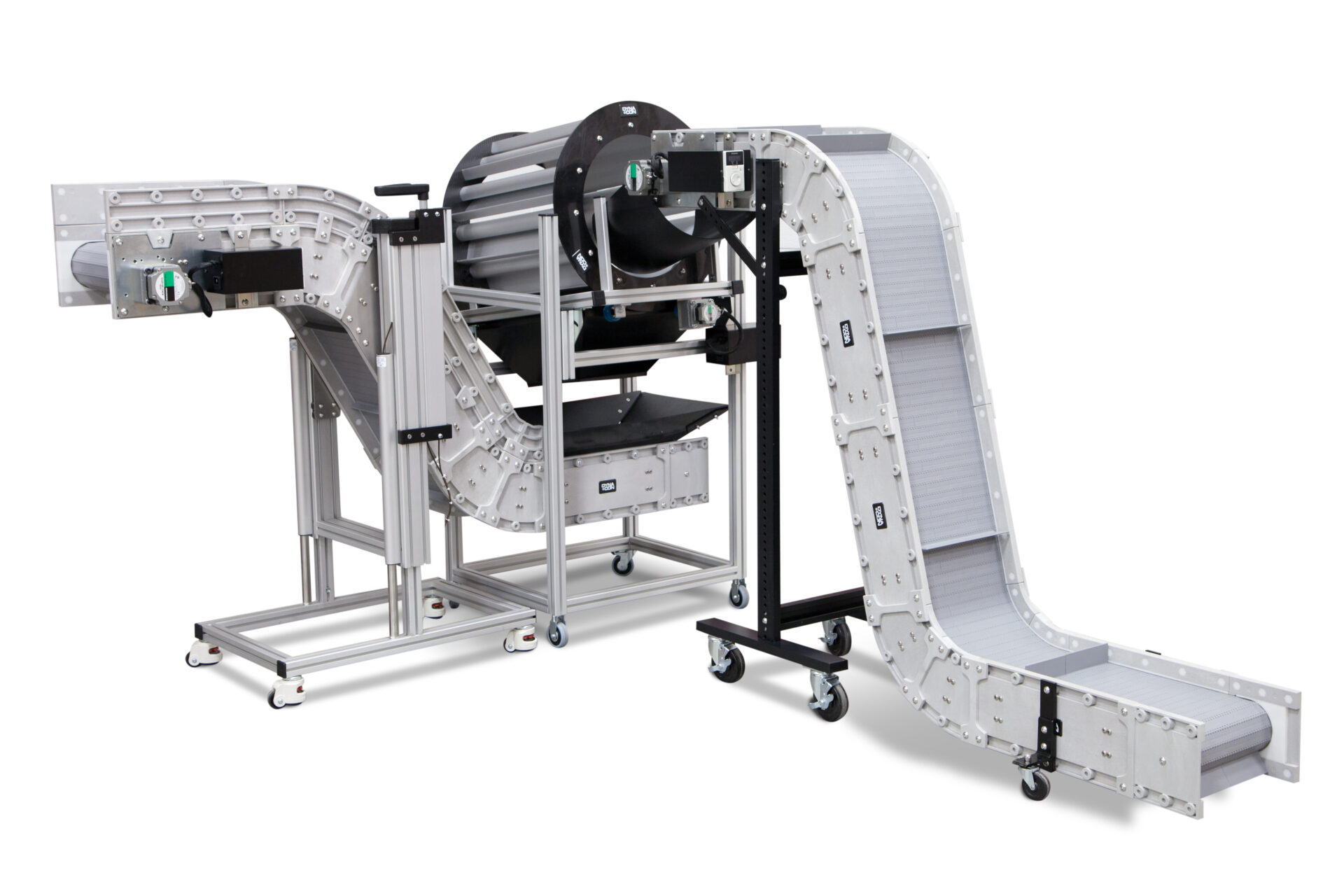 General/Parts Manufacturing
Plastics Injection & Blow Molding
Automotive
Metal Stamping
Medical Device & Equipment
Packaging
Success Stories →
"The DynaCon equipment being used in our operations has provided us with extreme flexibility in our manufacturing processes…the DynaCon conveyors allow for re-utilization of existing equipment on new jobs as well as the flexibility of reconfiguring existing lines quickly."
Nathan Dietrich, Mfg. Engineer
Stanley Engineered Fastening
"We've tried other conveyors that were touted as modular, but I wouldn't say that they are modular like the DynaCons. We have so many of them because we have good success with them."
Henry Tamangi, Maintenance Manager
Comar, Inc.
"I'm impressed. Over six months of service, it's required no maintenance and it hasn't needed any cleaning."
Mike Will, Operations Engineer
Black Diamond Equipment
"Our DynaCon system grows right along with our business because it works on every product we make. It is very easy to add and remove sections and accessories as needed, such as extended sides and cooling fans. Everything is easy with DynaCon."
Brett Huster, Engineering Manager
C.A.P.S. Inc
"We literally only work on the DynaCon conveyors when they are damaged by misuse. Otherwise, we do a regular cleaning, and put them back in production….Conveyor downtime has pretty much been eliminated by using DynaCon conveyors."
Sean Plantz, Maintenance Technician
Currier Plastics
DynaCon conveyors are made from small sections, like LEGOs™, and you just build the conveyors like you want them. The fact that I can reconfigure them is the biggest selling point. They're competitively priced. There are cheaper conveyors, but you get what you pay for.
Mark Borzillo, Plant Manager
Rexam
"I will be ordering more conveyors within the next month, so that should be a good indication of how I feel about Dynamic Conveyor. The integration of these conveyors is simple, seamless and sturdy. We researched many conveyors and made the right choice going with you guys!"
Bob Luthi, Plant Manager
Temple Tag
"If you figure $25K per operator, we're now saving about $250,000 to $350,000 per year since installing DynaCon conveyors."
Michael Van Zant, Manufacturing Manager
Nyloncraft
"When we had to expand the lineal distance on the DynaCon conveyor, we were able to add length and put it back together very easily. It's very cool."
Kevin Foley, Co-Founder
Radius Toothbrush
"We have six of your conveyors. They very rarely need parts, they are like tanks they just run and run."
Herb Willard, Facilities Manager
AIRMAR Technology Corp
"I've seen other companies try to save $1,000 when buying a conveyor system…they will spend that thousand dollars with maintenance and such in the first year and for every year after that… because the conveyors won't hold up."
Bill Padgett, Vice President of Manufacturing
Custom Bottle