Careers
Our greatest assets are our people.
We are constantly seeking talented individuals who are passionate about making a difference and driving innovation. If you are looking for a rewarding career where you can grow both personally and professionally, you've come to the right place.
Our employees enjoy working together to promote, design and build custom conveyor solutions that meet the unique and growing needs of our customers. We offer meaningful work, a collaborative environment, professional growth, work-life balance and competitive benefits.
If there are no job postings listed below and you would like to submit your resume for future consideration please send to careers@dynamicconveyor.com.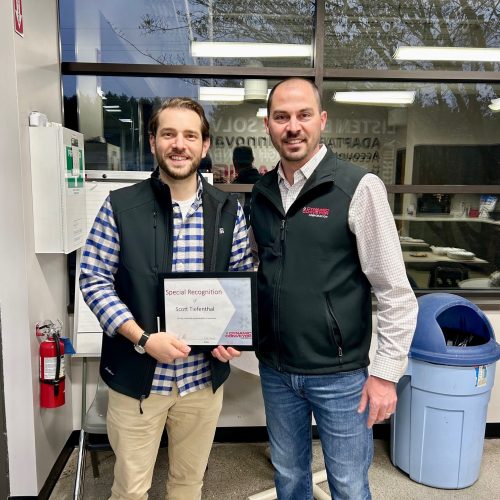 Raising the Bar: Process and Service Excellence
A big shoutout to Scott Tiefenthal one of our Inside Sales Reps. He joined our team less than six months ago and is setting new…
If no jobs are listed here, we do not have any open positions available at this time.  Be sure to check back later.
Completion of satisfactory medical exam including drug, alcohol and back screen is required for employment with Dynamic Conveyor.  Employment offers will not include relocation assistance.
Collaboration
We work together towards a shared vision to arrive at the desired outcome.
Quality
No task is ever so urgent that we cannot take the time to do it correctly.
Integrity
We are honest and ethical in all our engagements.
Accountability
We own our actions, and do what we say we are going to do, when we say we are going to do it.
Innovation
We promote a culture that encourages creative thinking and continuous improvement.
Adaptability
We are open and accepting to change to support the needs of the business.