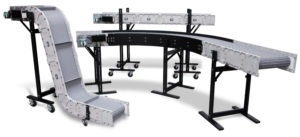 Doing the research for a new belt conveyor system can be a daunting task. Conveyor technology is advancing and there are several questions you should ask before making your next conveyor purchase. You want to make sure that the belt conveyor you choose to purchase will give you the best overall return on your company's investment.
What is the expected lifetime of the belt conveyor system?
You want to find a belt conveyor that will give you many years of service – far beyond the initial purchase.
A belt conveyor system with the ability to not only meet your current needs, but your future needs as well, will give you the greatest return on your investment. Change is inevitable. Make sure the conveyor you purchase today will give you the ability to meet your future needs as well.