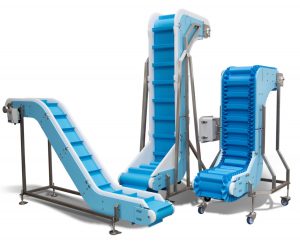 Sanitary conveyor systems are a critical element in the automation and operational efficiency at food packaging and processing facilities. Conveyor technology is advancing and there are several questions you should ask before making your next conveyor purchase. You want to make sure that your sanitary conveyor purchase will give you the best overall return on your company's investment.
How easy is it to clean and sanitize?
The ease of which you are able to clean a conveyor system is imperative. Look for food grade conveyor systems that offer a simple design that is easy to take apart for quick cleaning and sanitizing.
A good design will allow you to take the conveyor apart without the use of tools. Removable components should be small enough to easily handle, but large enough so they don't get lost. Make sure all equipment parts are accessible for cleaning and are self-draining with no product or liquid collection points.
Consider the color of the conveyor. Conveyor color, such as blue, can aid in the visual identification of soil and food particles. With the right conveyor, you can greatly reduce your risk of product contamination and recall.