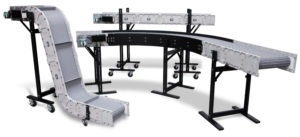 Doing the research for a new belt conveyor system can be a daunting task. Conveyor technology is advancing and there are several questions you should ask before making your next conveyor purchase. You want to make sure that the belt conveyor you choose to purchase will give you the best overall return on your company's investment.
What is the expected lifetime of the belt conveyor system?
You want to find a belt conveyor that will give you many years of service – far beyond the initial purchase.
A belt conveyor system with the ability to not only meet your current needs, but your future needs as well, will give you the greatest return on your investment. Change is inevitable. Make sure the conveyor you purchase today will give you the ability to meet your future needs as well.
The ideal conveyor will give you the ability to easily remove, insert and/or exchange conveyor modules to create a new conveyor configuration. Look for configuration options that will give you the ability to lengthen or shorten the conveyor and add or subtract inclines and declines without compromising the integrity of the conveyor system.
What costs should I consider beyond the original purchase price?
We never plan them, but mishaps can shut down a production line for a long period of time. Ask the conveyor supplier what would happen if a fork truck were to run into the conveyor. Would it survive? If not, what would it cost to repair or replace the conveyor? Replacing conveyor modules on a modular conveyor is much less costly than replacing an entire conveyor system.
Also consider the conveyor belt included on the conveyor system. Belts are usually the most costly replacement item on any conveyor. The typical lifetime of a PVC conveyor belt is 18 months. Replacing an entire belt every 1 to 2 years can quickly deplete your maintenance budget.
In comparison, plastic link style belting can be easily repaired without the need to replace the entire belt when damage occurs.
Damaged conveyors, belts and accessories can be time-consuming to replace. Look for conveyor systems that can be repaired quickly and easily without specialized labor.
How much time should I allocate for ongoing belt conveyor maintenance?
Maintenance and uptime can affect productivity. Determine what type of maintenance your new system will need.
Most belting, such as PVC, requires frequent alignment and can be difficult and time-consuming to install and service. Look for conveyors with tensionless belts. They are sure to provide good traction, wear, performance and service.
Unlike standard conveyors, self-tracking belt systems don't need continuous tensioning or frequent replacement.
What safety features are included?
Look for a belt conveyor system where all of the moving parts – such as chains, belts and sprockets – are not accessible to fingers, hands and loose clothing.
The safest belt conveyors are designed without sharp edges and ensure that all moving parts are self-contained or guarding is in place.
Make sure that the conveyor system you choose can check off all the above boxes. This way you will be sure to reap the benefits from your conveyor investment for many years.
Print the Check List
Latest posts by Marcie Palmer
(see all)