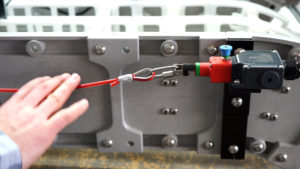 April 4, 2019 — Dynamic Conveyor Corporation, the leading manufacturer of reconfigurable conveyor systems, now offers a cable style e-stop accessory option to accompany its DynaCon parts conveyors.
The new cable style e-stop, and the traditional mushroom button e-stop, provide the ability to quickly stop the conveyor from running in an emergency situation.  The cable style e-stop offers optimal protection along the entire length of the conveyor.  In the case of an emergency, an operator can push or pull anywhere along the length of the cable to stop the conveyor from running.  The cable can be run on one or both sides of the conveyor.  The e-stop cable can be installed on DynaCon conveyors including Z conveyors, flat conveyors and angle conveyors.
The new cable style e-stop can be added to new or existing DynaCon conveyor systems.  Customers will find that installation on their existing DynaCon conveyors is easy to do.  Simple cable style e-stop assembly instructions can be found on the company's website.
DynaCon conveyor systems offer users the ability to configure their own conveyor systems using modules (like Lego® building blocks) to configure and later reconfigure their conveyor layouts.  Flexibility of design includes choices for length, width, inclines, declines, lateral turns, belt styles and an array of accessory options.  Modules are built using plastic injection molded parts, which bring strength and durability to the systems while being light-weight enough to be portable.   The systems are designed to require no maintenance, lubrication or need for belt tracking.  Reconfiguration of the DynaCon systems offers an eco-friendly and sustainable conveying solution.
Watch the video and see the benefits of the new cable e-stop option on DynaCon conveyors.  Call 231.798.1483 for additional information.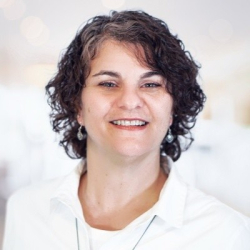 Latest posts by Marcie Palmer
(see all)