JAE Oregon, manufacturer of quality electronics connectors for telecommunications and automotive applications, is dedicated to identifying opportunities for continual improvements in manufacturing operations.
Challenge
Todd McNemee, Senior Molding Manufacturing Engineer, recognized that "bearings in traditional conveyors tend to fail too often, start to grind and create a black degraded mixture of metal shavings and grease which results in product loss."  Additionally, belts on traditional conveyors get off track over time, resulting in belt fragmentation that mixes with product which then has to be scrapped.  Just one piece of debris and the entire tote has to be scrapped.
Solution
In an effort to reduce the amount of scrap from its molding operation, McNemee worked with Dynamic Conveyor to replace his traditional conveyors with new modular DynaCon conveyors.  With maintenance-free DynaCon conveyor systems, no lubrication is needed and the positive sprocket drive with automatic belt tracking eliminates slippage and edge damage of belts.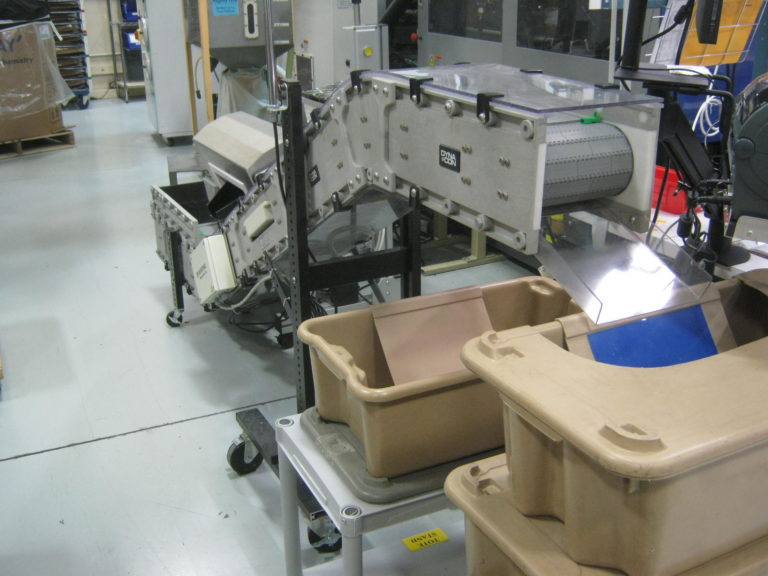 Results
Before installing modular conveyors, one piece of debris in a tote or a single bad part would render an entire tote scrap.  With the new system, subpar parts are caught before entering the tote system, increasing production output.  McNemee says, "the DynaCon system is an integral piece in our quality control system, wherever it is used, and really helps with our containment."  JAE Oregon produces 15 million connectors per month with round the clock shifts, 365 days per year.   "The DynaCon modular conveyor systems work so well, I am introducing them as replacements for the older conveyors we have, as quickly as I can," says McNemee.  "The more we replace, the fewer contaminations and complications we have, and that is good for the bottom line."