The Difference Between Using an Angle Conveyor and a Z Conveyor
Conveyors can have the ability to operate in a horizontal, incline, angle or Z style configuration.  When you need to get product to a higher elevation you can choose between an angle conveyor (think of a hockey stick configuration) or a Z style conveyor (some people refer to it as a swan neck configuration).  Before making your choice, take the time to compare the benefits of using the most common, an angle conveyor, and a non-standard Z Style conveyor.
Most continuous belt conveyors have the ability to operate in an angle configuration.  But, in order to run one continuous belt in a Z configuration it must be a non-tensioned belt.  In addition to having the ability to operate in both an angle and a Z configuration, non-tensioned belts offer a cost savings.  Cost of ownership savings are experienced with non-tensioned belts because they are self-tracking, maintenance-free and do not require regular replacement.
The end of the conveyor where the product is conveyed to is also the motorized end of the conveyor, which is commonly referred to as the drive module.  The drive module contains the shaft, bearings, motor, sprockets and pillow blocks; therefore, making it the heaviest part of the conveyor.  On an angle conveyor, a leg support at the end of the conveyor is needed in order to properly support the weight of the drive module.  The placement of the leg support at the end of the conveyor makes it impossible to place a box or work table underneath the conveyor to properly receive the conveyed product.  On the contrary, a Z configuration allows the leg support to be set back a few feet, which enables the cantilevered drive module to deliver the conveyed parts to the center of the box or work table, which is the preferred drop off location.
[btn url="https://dynamicconveyor.com/contact/quote-request"] Get a Quote & Be a Winner [/btn]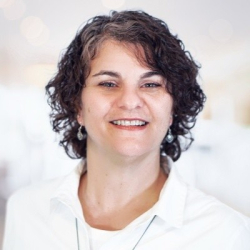 Latest posts by Marcie Palmer
(see all)