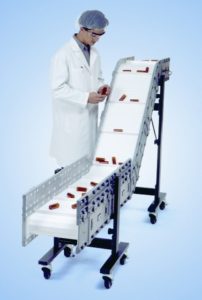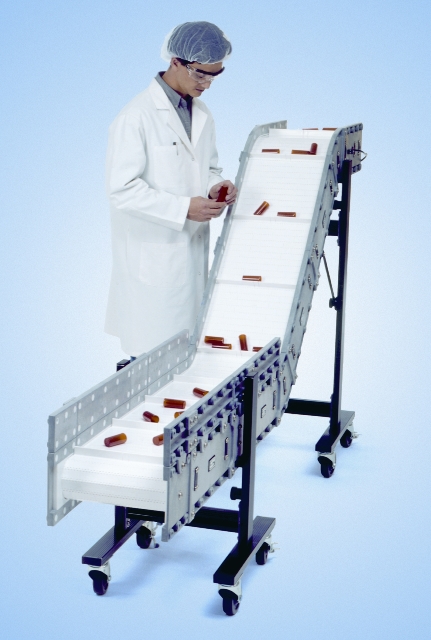 Those in the medical device manufacturing industry know that things are constantly changing.  In this ever-changing industry, there is perhaps nothing more important than having clean room ready equipment that can change, too.  Therefore, utilizing a clean room conveyor system that is capable of easy reconfiguration is of utmost importance.
Medical device manufacturers making products such as syringes, bottles, caps, IV bags, surgical instruments, medicated patches, catheters, joint replacement components, hearing components, etc. should consider the following when looking to buy their next medical device handling conveyor:
Clean Room Classification:  Even though your facility may only require a Federal Standard Class 209D Class 1,000 or 100 clean room rating, you will want to look for a conveyor manufacturer who offers a conveyor system with a Federal Standard 209D Class 1 rating (ISO Class 3).  By purchasing a clean room conveyor with a FS 209 Class 1 rating, you will be ready to meet more stringent needs if your future requirements change.
Be sure to take price into consideration as many conveyor manufacturers will charge more money for conveyors that meet these high standards.
Conveyor Flexibility:  The ideal conveyor will offer you the flexibility to easily change the length and angle configurations when needed.  Look for a modular conveyor system manufactured using standard modules in a range of sizes and shapes that will provide the agility you need in your ever-changing industry.  Make sure the modular conveyors you choose not only give you the ability to configure for today's specific needs, but the flexibility to reconfigure in the future as your needs change.
The ideal medical device conveyors will also allow for easy adaption of clean room accessories and components such as HEPA filters, tunnel enclosures, ionizers and hermetically sealed entry/exit gates.
Portability:  Determine whether or not the conveyor could be needed for more than one process or at more than one location.  Fixed metal conveyors are heavy and not easily moved.  Look for a portable conveyor that is lightweight and can be rolled from one plant to another or from one line to another.  Also, if you require quick access to machinery for servicing or changeovers, a portable conveyor can be easily moved out of the way.
In the medical device manufacturing industry where production needs can suddenly change, or where sudden innovation is common, a clean room conveyor with flexibility will help employ rapid and proactive methods to meet the demands of new development and manufacturing changes.
Get Started Today
Latest posts by Marcie Palmer
(see all)