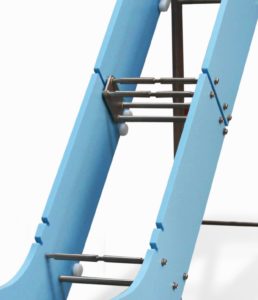 Sanitary conveyor design refers to the application of design techniques that allow for timely and effective cleaning whether you are referencing NSF, FDA, USDA or BISCC design standards.  Sanitary design improves food safety, helps companies avoid costly product recalls and provides operational efficiencies be reducing labor costs and the time and effort required to clean the conveyors.
Reduced downtime is achieved in a sanitary conveyor system that is thoughtfully designed to offer quick changeovers and better sanitation.  The ideal sanitary conveyor design elements will allow for ease of accessibility and be constructed to withstand the rigors of the sanitation process.
Basic sanitary conveyor design principles that should be considered for any food handling facility:
Cleanable surfaces: the ideal sanitary conveyor design will include removable components, standoffs, minimal mated surfaces and adequate space that allows for easy access for cleaning.
Self-draining: the conveyors should not have spaces where product and liquid can sit and increase the chances of contamination.  The design should not include horizontal surfaces, give easy access to all components and allow ample space for cleaning.
Smooth surfaces: there is no need for sharp edges in a properly designed conveyor system.  In addition to being a safety issue, sharp edges can lead to product build-up.
Material construction: a conveyor built solely of stainless steel is no longer the considered the highest quality conveyor for most food plants.  It's important to ensure the materials are well-suited for the environment and can withstand the chemicals and water used for cleaning.  Plastics, such as HDPE and VHMW, are capable of withstanding the harshest food processing environments.  Steel should still be a requirement for supports and hardware.  304 stainless steel is the ideal option when compared to aluminum or lesser grades of steel.
Easy access: easy access to the internal components of the conveyor will be the result of a system that is designed to be taken apart in a matter of minutes without the use of tools.
Belting: polyurethane tensionless conveyor belts have revolutionized food conveyor belting.  Polyurethane conveyor belts are solid and do not contain reinforcing steel or fabric cords incorporated in the middle of the belt.  Polyurethane belts that get a slight nick or gouge will not generate any bacterial harborage points.
Conveyor systems are one of the most important components in a food processing line.  They can significantly impact both the quality and food safety of the products they transport.  A good sanitary conveyor design will make a positive impact on any food processors bottom line.
Get in Touch and Improve Your Food Safety