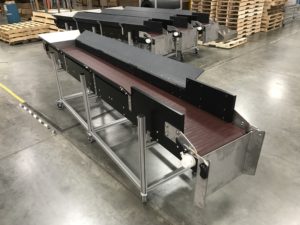 Getting the right blow molding conveyor for your closed loop system is sure to increase your container and bottle blow molding efficiencies.  You will want to consider these 4 things before purchasing a conveyor system to close the loop on your blow molding process.
High Temperatures: Purging the melt onto the conveyor happens and there is no way around it in a blow molding process.  You want to make sure that you have a conveyor that can withstand the high temperatures of the molten plastic.  Make sure that all contact surface areas on the conveyor are made from high-temperature resistant nylon material.  High-temperature resistant nylon can withstand sustained temperatures up to 310oF and will be assured to keep your process running.
Small Footprint: Look for a conveyor that is designed to fit into the tight space constraints that often accompany a well-designed blow molding machine.  You will want to make sure that your conveyor partners well with your chosen brand of blow molding machine.
Separation: The most efficient blow molding processes are automated closed loop systems.  In these closed loop systems, the ideal conveyor will act as a separator in addition to conveying your blow molded parts.  Choose a conveyor that will separate the tips and tails, away from the bottles, and convey them to a scrap grinder.
Ease of Repair: Mishaps can shut down the blow molding process.  A conveyor system with a plastic link style belt can be repaired quickly and easily without specialized labor.  Damaged sections of plastic link style belts can be replaced within minutes without the need to replace the entire belt.
Don't settle for second best.  It is possible to get all of these benefits in one conveyor for your blow molding process.
[btn url="https://youtu.be/pbzJ1EgcpNE"] Watch the video & see how! [/btn]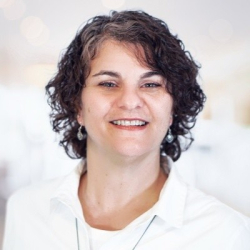 Latest posts by Marcie Palmer
(see all)