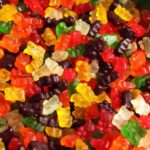 Looking for a way to convey sticky food products to a higher elevation?  Conveying sticky food products vertically can be extremely challenging for food processors and packagers.  Sticky food product can adhere to the conveyor belt and be difficult to release at the appropriate time; therefore, resulting in product loss.  Successfully conveying sticky food product requires selecting and using a conveyor system that is capable of conveying these problematic foods.
An extensive variety of food products can exhibit sticky characteristics.  Food products made of sugar or starches are inherently sticky and have a tendency to hold fast to the conveyor belt.
The importance of food conveyor belt selection for effectively conveying sticky foods
There are a variety of belting options available for conveying food products.  Both plastic link style and solid surface belting are acceptable options for conveying food products.  When it comes to sticky food products that easily adhere to belting, you will want to look for a conveyor supplier that offers embedded diamond top belting.  Embedded diamond top belting was specially designed for the superior release of sticky food products.
Superior food product release is achieved because the diamond pattern is embedded onto the surface of the belt.  The embedded diamond pattern reduces surface contact between the belt and the sticky product being conveyed, eliminating product suction to the belt surface and promoting quicker, easier product release.  To permit effective vertical conveyance of sticky products, both sides of the drive flights and the belting sidewalls, have the diamond pattern embedded onto their surfaces as well.
Embedded diamond top belts are solid surface belts made of homogeneous thermoplastic with 100% closed surfaces.  Because the surface is 100% closed, thermoplastic conveyor belts are the premium solution for hygienic food-processing applications.
Food conveyor reduces sticky food product loss
When faced with the challenge to convey sticky food products, it is important to work with a conveyor supplier who offers belting options that have been designed and proven to greatly reduce food product loss.
Watch the video to help you decide which is your best option to convey sticky food products.
Subscribe to our E-News and stay informed!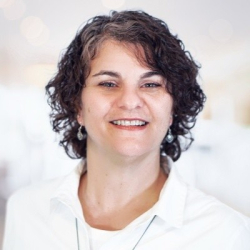 Latest posts by Marcie Palmer
(see all)