DynaCon medical device conveyors gives manufacturer of N95 respirator masks needed flexibility for setting up their new production lines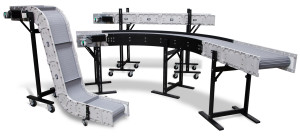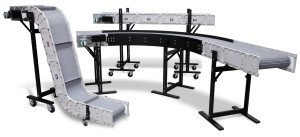 April 15, 2020 — The Defense Production Act (DPA) has been reauthorized once again.  This time we are fighting an invisible enemy – COVID-19.  The DPA has been put in force to increase the production of needed medical equipment and ensure the US government has the industrial capacity to meet the nation's needs.  Through the Defense Department contract, more than 39 million N95 respirator masks will be provided, over the next 90 days, to help fight against the coronavirus.
Manufacturers of the N95 masks are required to increase their production levels at unprecedented rates.  In order to do so, new production lines must be put in place quickly in order to meet the new high production demands.  The procurement of equipment such as medical device conveyors is necessary before any production line can be set up and masks can begin to be manufactured.
Dynamic Conveyor Corporation, of Norton Shores, Michigan, has been awarded purchase orders, from a major N95 respirator mask manufacturer, to build nine (9) custom DynaCon medical device conveyor systems.  The first order of three (3) custom reconfigurable conveyors shipped today – just four (4) days after receipt of the order.
DynaCon reconfigurable conveyor systems are ideal for manufactures who require the flexibility often needed when production lines are designed quickly.  The ability to reconfigure a conveyor can be imperative to the set-up, especially when not much time was allotted for planning and measuring, of a new production line.  Conveyor systems are commonly used to convey product from one machine to another.  It is vital to the production line that the conveyor fits correctly between those two pieces of equipment.
DynaCon conveyors offer users the ability to configure their own conveyor systems using modules (like Lego® building blocks) to configure and later reconfigure their conveyor layouts.  Flexibility of design includes choices for length, width, inclines, declines, lateral turns, belt styles and an array of accessory options.  Modules are built using plastic injection molded parts, which bring strength and durability to the systems while being light-weight enough to be portable.   The medical device conveyor systems are designed to require no maintenance, lubrication or need for belt tracking.
Watch the video to see how easy DynaCon conveyors can be configured and reconfigured.  For more information visit www.DynamicConveyor.com or call 231.798.1483.