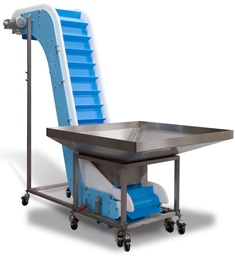 Food conveyor accessories that add value to the conveyor system should be considered in the initial design of your sanitary conveyor system.  Accessory options are easy to overlook during the initial design of a new conveyor system. It is common to focus most of the design energy on the basic size and shape of the conveyor, such as height, width and overall geometry.
However, there are food conveyor accessories that are equally important to optimize the overall performance of your conveyor.  When looking for a conveyor company to design your next sanitary conveyor system, make sure the designer takes into consideration three very important accessory options.
Clear Covers: Clear covers aid in worker safety and prevent contamination from falling on the conveyor belt and into the food stream. It is common to cover the top of a horizontal section of the conveyor, but may be equally significant to cover the front and/or back of a Z or Vertical Z conveyor. Because sanitary conveyors need to be cleaned frequently, it is important that the covers can be taken off and put back on very quickly. Ask your designer to include covers that are hardware-free and easy for one person to handle.
Catch Pans: Catch pans are often used to contain product that may travel on the belt until it falls off on the underside of the conveyor. Capturing the product in a sanitary catch pan keeps it from collecting on the production floor and alleviates the need to discard the product as waste.  For ease of cleaning the conveyor and the catch pans, request that they be hung from the conveyor with existing hardware and can be taken on/off quickly without the need for tools.
Hoppers: Infeed hoppers allow product to be fed onto the conveyor in a controlled manner. A well designed hopper will direct the product onto the center of the belt as the conveyor is moving, allowing the product to be evenly loaded and fed off of the conveyor. Concentrating the product in the center of the belt reduces product damage that can occur if product rubs along the conveyor sidewalls. Infeed hoppers eliminate product loss by insuring that 100% of your product goes onto the conveyor and not the floor. Your designer should recognize that hoppers are imperative for achieving optimal efficiency and value of the conveyor system.
Even though some food conveyor accessories can be added after the conveyor is purchased and installed, it is always best to include the accessories on the front end of the design. Including these options in the initial design of the conveyor minimizes the mounting hardware and makes cleaning the conveyor much easier. Ease of cleaning results in saving time and money.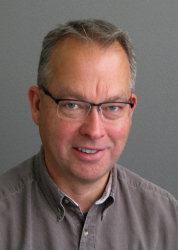 Latest posts by Paul Kuharevicz
(see all)