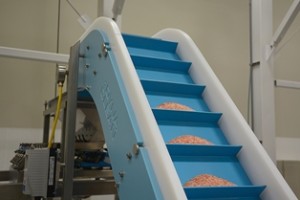 Food grade conveyor belts are a very important part of any sanitary conveyor system. The next time you are looking for a conveyor system for your food processing plant, make sure you match the capabilities of the conveyor belt with the products that you will be conveying.
It is recommended that you work with a reputable conveyor manufacturer.  In doing so, examine your specific application and determine how the sanitary conveyor will be used and at what point in your processing or packaging line. Be prepared to answer a few very important questions that will be used to dictate the ideal food grade conveyor belt provided with your sanitary conveyor:
What products will you be conveying?
What is the temperature of the products?
What are the product characteristics – dry, wet, sticky, abrasive, friable?
How frequently will the conveyor system need to be cleaned?
What chemicals will be used during cleaning?
The products that you will be running on the conveyor play a major role in selecting the ideal food grade conveyor belt for your conveyor system. For example, let's say your facility processes foods that can be sticky. Some conveyor belts are designed to be better suited to release product at the point of transfer.
Similarly, abrasive ingredients such as sugar or cornmeal can wear and degrade food grade belts that aren't made to hold up against rough or grainy foods. But there are conveyor belts created specifically to withstand these types of challenging products.
The consequences of making a poor conveyor belt selection can include belt breakages, unscheduled downtime, lower yield, higher costs, material degradation, and foreign material contamination.
Lean on the expertise of your conveyor manufacturer and consult with them early in the process. Your product is always top of mind for you, so keep it top of mind when discussing your sanitary conveyor needs with any trustworthy conveyor manufacturer. They have the knowledge and insight to recommend, design and build a conveyor system that will work seamlessly and run reliably with your food products.
[btn url="https://dynamicconveyor.com/products/food-conveyor/overview/"] Learn how our sanitary conveyors can best convey your food products [/btn]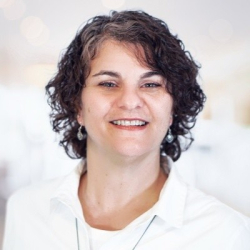 Latest posts by Marcie Palmer
(see all)