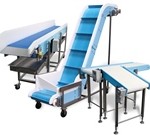 Food grade conveyor systems are necessary to automate food processing and manufacturing plants.  Food grade conveyor systems are a critical element in the facility's operational efficiency and ultimately, the company's profitability.  Conveyor technology is advancing and there are several things to consider before automatically choosing to purchase another stainless steel conveyor.  The following checklist can help you determine what type of conveyor system is most suitable where operational efficiency and profitability are of high importance:
Ease of Cleaning
In the food processing industry, the ease of which you are able to clean a conveyor system is imperative.  Look for food grade conveyor systems that offer a simple design that is easy to take apart for quick cleaning and sanitizing.  A good design will allow you to take the conveyor apart without the use of tools.  Make sure all equipment parts are accessible for cleaning and are self-draining with no product or liquid collection points.  Consider the color of your conveyor.  Conveyor color, such as blue, can aid in the visual identification of soil and food particles.  With the right conveyor, you can greatly reduce your risk of product contamination and recall.
Longevity
The right conveyor system will be made of components that are chemical and corrosion resistant in order to handle the rigors of frequent cleaning and sanitizing.  Conveyor sidewalls and product retaining walls made of plastic will not splinter, rot or retain harmful bacteria, odors or cleaning agents.  When made of impact resistant plastic material, conveyor components – including conveyor sidewalls – are cost-effective to replace when damage is done or conveyor design changes are needed.
Cost of Ownership
Look beyond the initial purchase price when considering the cost of the conveyor system.  Don't forget to consider the cost of operating and maintaining the system.  The labor and resources needed for cleaning the conveyor can quickly become your largest cost.  Look for a conveyor with minimal parts and the ability to clean it quickly and efficiently.  Remember, you want your conveyor to spend most of its time making you money, not costing you money.
Ease of Maintenance
Maintenance and uptime can affect productivity.  Determine what type of maintenance your new system will need.  Consider motors with a hermetically sealed design that ensures internal parts are not exposed to external environmental conditions and tampering.  Look for feed rollers that are bearing-free and tensionless belts that are self-tracking.
Belting Options
Choose a vendor that offers a wide range of belt types and styles.  The option to choose solid-surface, link style or metal mesh belting for your conveyor will give you ideal conveyance of your food product whether it is dry, wet or sticky.  Look for food grade conveyor systems that include belting that is self-tracking, provides good wear, performance, and service.
Safety
As with any mechanical and electrical device, conveyors can present some safety concerns.  Look for a conveyor system where all of the moving parts – such as chains, belts and sprockets – are not accessible to fingers, hands and loose clothing.  The safest conveyors are designed without sharp edges and ensure that all moving parts are self-contained or guarding is in place.
If you are still unsure which system will serve you best, consult a conveyor expert.  Work with a conveyor manufacturer who will partner with you to design the ideal system for your needs.
Contact us for a free food grade conveyor system assessment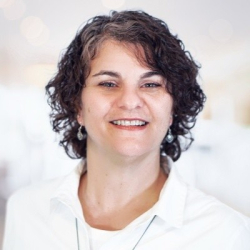 Latest posts by Marcie Palmer
(see all)