"Our previous bucket conveyor took roughly four hours to clean. The DynaClean conveyor takes approximately an hour. We are very happy with our new conveyor!"
Paul Vilker, Operations Manager at The Gluten Free Bar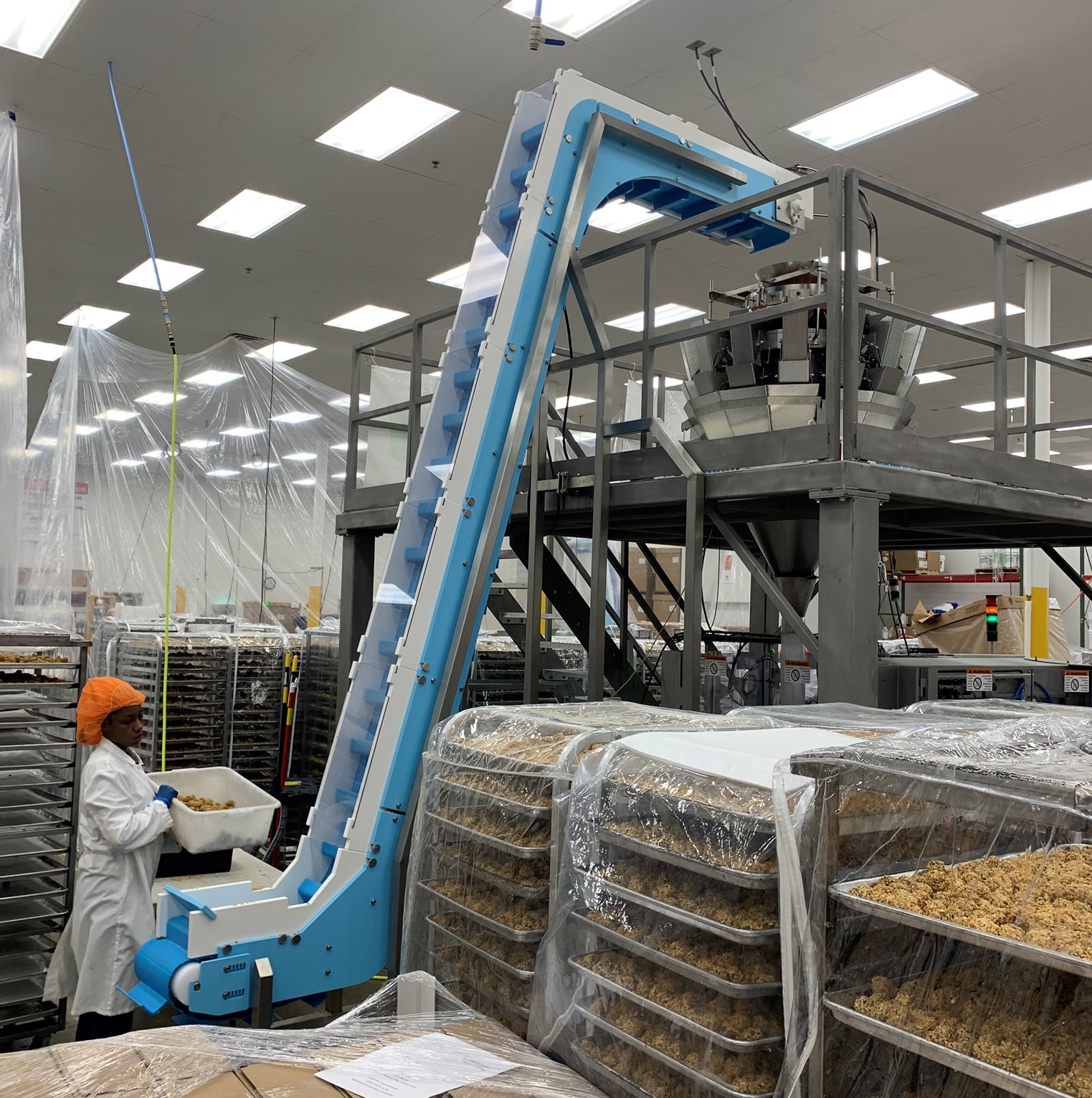 Challenge
The GFB (aka The Gluten Free Bar) company came into existence in 2010 after two brothers, Marshall and Elliott, were looking for quality gluten-free options to support their own gluten intolerances.  The brothers started their business by creating a better ingredient gluten-free protein bar.  They chose to start their own facility because they wanted to create jobs, contribute to their local economy, and be able to keep a close eye on quality.  The Grand Rapids, Michigan business has grown and added several flavor options, bites and oatmeal to their line of healthy gluten-free products.
As with most start-up businesses, The GFB initially relied on their team of employees to manually make their products.  Their operators would fill a 5-gallon bucket with GFB Bites and walk them up the stairs where they would dump them into the packaging machine's hopper.  As the company grew and they developed more products, the brothers recognized the need to start automating some of their processes.  In 2015, The GFB contacted Dynamic Conveyor of Norton Shores, Michigan for a conveyor system to feed their GFB Bites to their packaging machine.  "We've come a long way since then," said Paul Vilker, Operations Manager, at The GFB.
Solution
In 2019 The GFB reached out to Dynamic Conveyor again.  "Dynamic Conveyor was a local solution that we felt we could build a relationship with.  Since we purchased our first conveyor from them years ago, we decided to purchase another one to support our new packaging innovation," stated Vilker.
This time they were looking to replace a bucket conveyor that was being used to convey their GFB bites and GFB oatmeal up to a hopper.  "The bucket conveyor that we were using was serving its purpose, but it was incredibly difficult and time consuming to clean," said Vilker.
The GFB offers consumers several flavor options.  But with every flavor option there is the potential to introduce a new allergen during the manufacturing process.  Anytime a new allergen is introduced, there is a need to clean the conveyor first.  The bucket conveyor took four (4) hours to clean.  Four hours multiplied by every flavor change and The GFB found they were spending a lot of time cleaning.  When they were cleaning they weren't able to package their products.  They knew there had to be a better way.
Results
The GFB purchased a Vertical Z DynaClean conveyor from Dynamic Conveyor to replace their traditional bucket conveyor.  The DynaClean conveys the gluten-free products to a hopper that feeds a stand-up pouch packaging line.  Because The GFB utilizes one conveyor for multiple products and flavors, they still need to clean their conveyor frequently, but "it is a night and day difference," Vilker happily explained.  "Our previous bucket conveyor took roughly four hours to clean.  The DynaClean conveyor takes approximately an hour".
The GFB sanitation crew typically breaks down the conveyor, foams it and then sprays it down.  After one hour they are ready to return the DynaClean Vertical Z conveyor to production and begin packaging a new flavor of their healthy, protein packed products.  "DynaClean conveyors are simple to use and much easier to clean.  We are very happy with our new conveyor!" said Vilker.