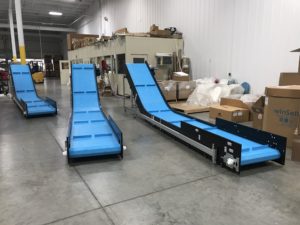 Large heavy plastic parts dropping from a molding machine onto a conveyor will wreak havoc on most conveyor systems. You want to look for a high-impact conveyor system that has been designed specifically to handle the force of large heavy parts without damaging your parts or the conveyor system.
Conveyor design: the ideal conveyor will include heavy-duty conveyor belting and a slider-bed drop zone.  The drop zone and heavy-duty belting will allow the conveyor to endure the intense impact that occurs repeatedly when heavy products are dropped onto a conveyor.
Conveyor maintenance: the last thing you want to do is interrupt your plastic parts molding line for conveyor maintenance. Belt adjustments are the most common maintenance requirement for some conveyors. Other conveyors utilize heavy-duty plastic link style belting that is self-tracking and doesn't need continuous tensioning or frequent replacement.
Ease & Cost of Repair:  as in any manufacturing process, mishaps occur and can shut down the plastic molding process. Look for conveyor systems that can be repaired quickly and easily without specialized labor. Belts are usually the most costly replacement item on any conveyor. The typical lifetime of a PVC conveyor belt is 18 months. Replacing an entire belt every 1 to 2 years can quickly deplete your maintenance budget. In comparison, heavy-duty plastic link style belting can be easily repaired without the need to replace the entire belt when damage occurs.
You are sure to get years of productivity when you find a high-impact conveyor system that is designed specifically to meet the demanding needs of conveying large heavy plastic parts.
[btn url="https://pages.services/welcometo.dynacon.dynamicconveyor.com/questions-to-ask-belt-conveyor/"] Get a FREE copy of Questions to Ask Before Purchasing a Conveyor [/btn]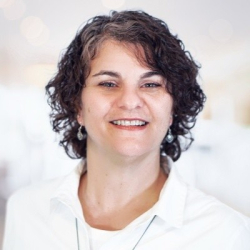 Latest posts by Marcie Palmer
(see all)