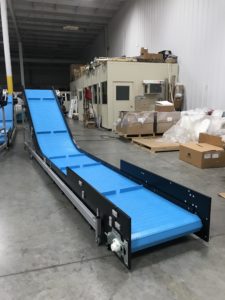 Large Heavy Plastic Parts Conveyed on Plastic Conveyor System
February 12, 2021 — A new model in the Hybrid™ line of conveyors has the capability of conveying large heavy plastic molded parts. Designed and manufactured by Dynamic Conveyor Corporation, the new high-impact conveyor model is sure to increase plastic molding efficiencies for conveyance of large heavy plastic parts.
This new high-impact conveyor model is designed to include a heavy-duty plastic link style belt and a slider-bed drop zone. Incorporating the drop zone and heavy-duty belting allows the conveyor to endure the intense impact that occurs repeatably when heavy products are dropped onto the conveyor.