Benefits of DynaCon Modular Conveyor Systems
One of the major benefits of a DynaCon parts conveyor is that it offers you complete flexibility for configuration and reconfiguration. But there are so many more reasons why these modular belt conveyors can be a superior choice when looking for a custom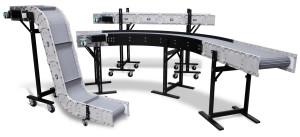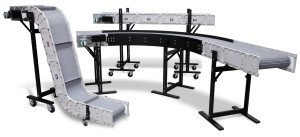 conveyor system.
Not only are they modular conveyors, but they are reconfigurable      
Configure or later reconfigure the modules to create a simple horizontal conveyor, an incline conveyor, a Z conveyor or a radius turn conveyor
Constructed from lightweight, high-impact polycarbonate, the easy-to-move belt conveyors make it easy to assemble a variety of flat, incline, and overhead conveyor modules into a complete conveyor system – one that can be changed at any time.
Compatible with a variety of plastic link style belting and varied drive flights (cleats)
Easily adaptable to meet Federal Standard 209D Class 1 (ISO Class 3) rating as a clean room conveyor
Custom Conveyor Configurations
Conveyor modules connect to form conveyor systems of varying lengths (up to 100 feet) and widths (from 4″ to 72″ wide)
Conveyor profiles include radius turns, flat, Z style and incline conveyors
Choose from a variety of interchangeable plastic link belting styles
Conveyors can be built as portable conveyors with casters or hung from the ceiling as overhead conveyors
Modular conveyor systems can ship in as few as 3 days through our Quick Ship Program.
Accessories for All of Your Processing Demands
From clean room conveyors to metal detection to cooling fans and water baths
DynaCon conveyors are easily adapatable to meet clean room conveyor ISO Class 3 Standards (Federal Class 1 Standards)
Accessories like E-Stop and Photo Eye Stop bring added safety to your facility
A variety of options help meet your product's standards, including metal detection, ionizers, and cooling fans
Belt Conveyors with a Lower Cost of Ownership
Maintenance-free conveyors reduce spare parts inventory
Eco-friendly energy efficient motors are maintenance free
No oil or lubrication required
Conveyor belts are self-tracking and require no adjustments or maintenance
Replace only the broken belting pieces, not the entire belt
Belt conveyor modules feature a lightweight, high-impact polycarbonate construction
Easy to assemble with no need for licensed installers
Options such as metal detection, chutes, covers, diverting arms and parts cooling are easy to add at any time
All of our modular conveyor systems are designed to your specifications
Order with fast lead times
5 year warranty
DynaCon Features Advantages Benefits