DynaPro™
Low Profile Conveyors
Ships in 0-5 days!

Get A Quote
Parts/Service
DynaPro™ is a durable, low profile conveyor developed for use across various industries, including general manufacturing, food packaging, parcel handling, injection molding, automotive manufacturing, and medical device manufacturing.
Just about any application can benefit from the features that are considered add-ons to most conveyor manufacturers, but come standard with the DynaPro line from Dynamic Conveyor Corporation.
This modernized low profile conveyor fits into a large array of applications, from being used with robot integration for pick & place, to injection molding takeout conveyors.
DynaPro flat conveyors have leg heights of 32" – 42" with infinite adjustment in between for the most compact applications. Bracket mounted and floor mounted frame options are also available.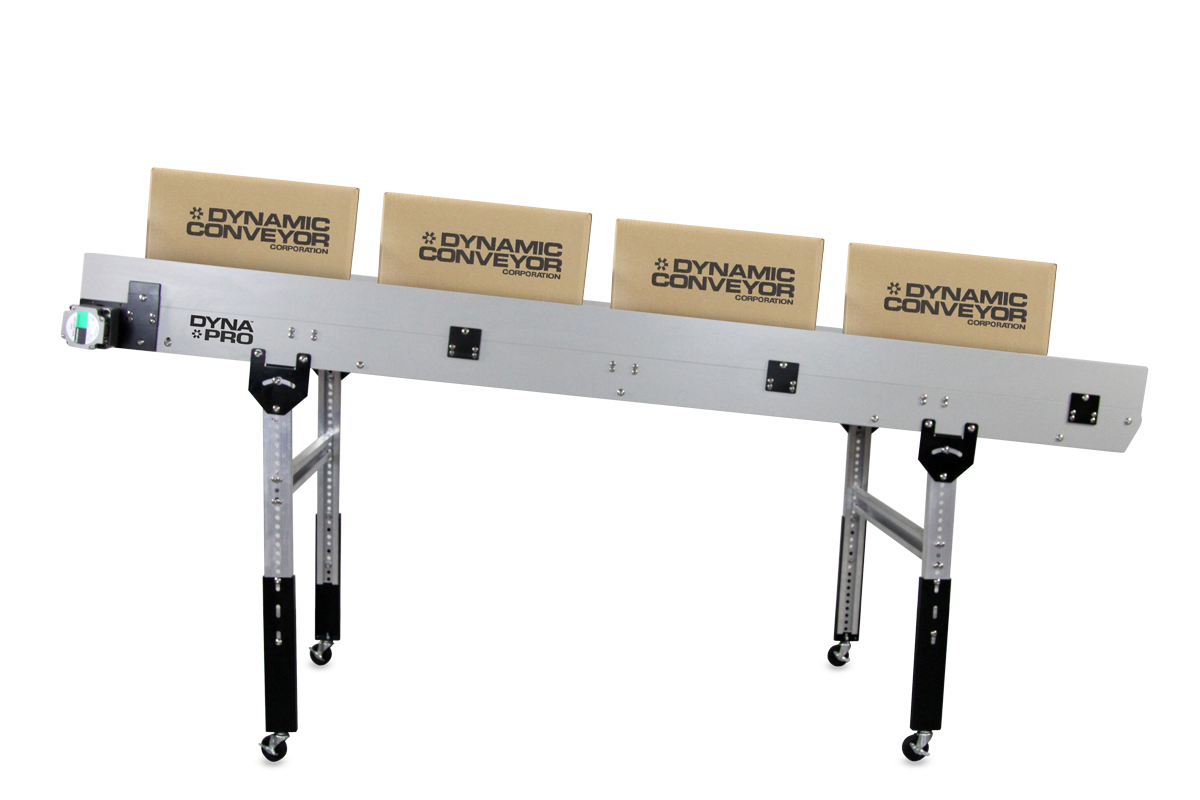 DynaPro incline conveyors have adjustable leg heights to create varying inclines and declines on the fly. Easily integrate into nearly any application or machine.
DynaPro incorporates many standard features that most other conveyors have as options.
View Full Gallery
Link Style Friction Top Belting

Sidewall Retaining Kits – 2", 4", 6", 8"

Feed End Retaining Kits
I/O Cable in 5,10,15m lengths for machine integration

Casters to allow for portability
DynaPro conveyors feature a tensionless link style belting to prevent tracking issues in the field.  Further, the DynaPro incorporates many standard features that most other conveyors have as options. These standard features include variable speed, reversing, nose bar design for tight transfers, and an I/O connector for machine integration.
DynaPro low profile conveyors are an excellent solution to helping companies achieve their energy efficiency and sustainability goals since the conveyors utilize compact, high-efficiency 60w & 120w DC brushless motors. Relative to other low-profile conveyors utilizing large 3-phase AC motors, DynaPro conveyors save an estimated 30% on energy costs over a year running single shift.
Standardized Design and Components
Maintenance Free
Tensionless Belts
Standard High Efficiency Motors
Modular Plastic Link-Style Belting
Integration Package
5-Year Warranty
Industry Leading, 0 to 5-day Lead Time
Reduces Cost of Ownership and Downtime
Eliminates Belt Tracking Issues
Reduces Energy Consumption
Improves Durability Over Standard Fabric Belting
Allows for Easy Machine Integration
Industry Leading Quality and Reliability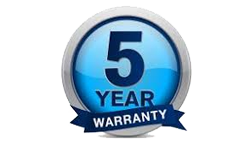 Low cost of ownership is a crucial consideration for businesses when making purchasing decisions. It refers to the total cost of owning and operating a product or asset over its lifespan. Low cost of ownership can help to reduce expenses, increase profitability, and promote sustainable and responsible asset management.
Achieving a low cost of ownership can be accomplished by selecting high-quality, durable products and implementing efficient maintenance and repair processes. By prioritizing a low cost of ownership, businesses can save money and resources while also contributing to a more sustainable future.
Modularity:

Conveyors are designed with a modular philosophy allowing them to be reconfigured to meet specific and changing needs of our customers business, which can help to reduce costs by eliminating need to purchase new equipment in the future.  

Quality Components:

We utilize high quality components in all our designs.  This leads to a durable conveyor system built to last. Reduces replacement parts costs, maintenance costs, and minimizes spare parts inventory needing to be carried.  

Low Maintenance Costs:

The design simplicity of our conveyors minimizes the number of components and wear items in a conveyor, minimizing repairs and preventative maintenance.  Additionally, we utilize non-tensioned belts in all our designs eliminating the maintenance time to continuously track belts.

Energy Efficiency:

Standard motor packages include DC brushless motors, with reversing and variable speed capabilities.  These motor packages reduce energy consumption by an average of 30% year-over-year relative to a standard 3 phase AC motor package.  

Easy Integration/Installation:

Many conveyors can be easily installed and integrated with other equipment, which can help to reduce costs associated with additional onsite fabricators, installers.
We've Built Conveyors For: