Low Profile Conveyors for Tight Spaces
DynaCon Modular Low Profile Conveyors fit into tight spaces, under equipment or in spots where conventional parts handling conveyors won't fit.  These small parts conveyors are only 4″ tall, and made with lightweight material, but are built with unsurpassed strength and durability.
New Solutions for Parts Handling Conveyor Challenges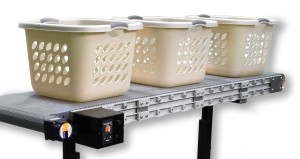 Using conveyor modules as short as 6-1/2″ in length, you can easily lengthen or shorten the conveyor in a matter of minutes without compromising the integrity of the conveyor.  This offers a cost-effective solution to traditional parts handling challenges, which are expensive and practically impossible to customize.
Benefits of a DynaCon Low Profile Conveyors
Conveyor modules connect and reconnect to form modular, low profile conveyor systems of varying lengths (up to 50′) and widths (from 4″ to 36″ wide)
Only 4″ high and feature high-impact polycarbonate construction which provides strength and durability to withstand 100 lb. load capacities
Compatible with plastic link style conveyor belting which doesn't require realignment or frequent replacement.
Eco-friendly motors are quiet running, energy efficient and maintenance-free
The low profile side frames allow products to be larger than the conveyor belt width
Conveyors offer straightforward mounting for a variety of accessory options.
Leg sets offer adjustable height options and caster-base wheels provide portability and lock securely for stable operation
A variety of options and accessories are available for the DynaCon low profile conveyors
DynaCon Low Profile Conveyors are maintenance free, reconfigurable and include a 5 year warranty